"Communicating, collaborating, and engaging our donors, volunteers, and staff is challenging"
We understand this challenge all too well. The good news is having a cost-effective unified communication, collaboration, and content platform is within your reach using SharePoint on Microsoft 365.
Microsoft SharePoint is the leading content and communication platform that helps your not-for-profit to:
Maximise your limited IT budget
Remove unnecessary IT spend by making the most out of your existing Microsoft 365 software investment. You already have SharePoint if you are using Business Premium or Enterprise E1, E3 subscription.
Get everyone on the same page
No need to use different platforms that break down your communication flow. Use a primary point of contact with SharePoint to communicate and engage your donors, volunteers, and staff.
Optimise your not-for-profit operations
Save time searching and sharing information via third party services such as Dropbox or Google Drive. Use SharePoint as a single platform to store, collaborate, and securely share your important data, even to external parties.
Empower full mobility
Accessible on any device, your staff and volunteers can stay productive anywhere, helping you to serve your communities better and accelerate your mission.
SharePoint Not-for-Profit Implementation Examples
We have worked with hundreds of NFPs to address their communication and collaboration, business process automation, and document management challenges. Below are just some of the recent notable SharePoint implementation projects we have delivered.
Intranet & Communications Portal
File Migration & Document Management
Volunteer Document Management
Work Acceptance & Assignment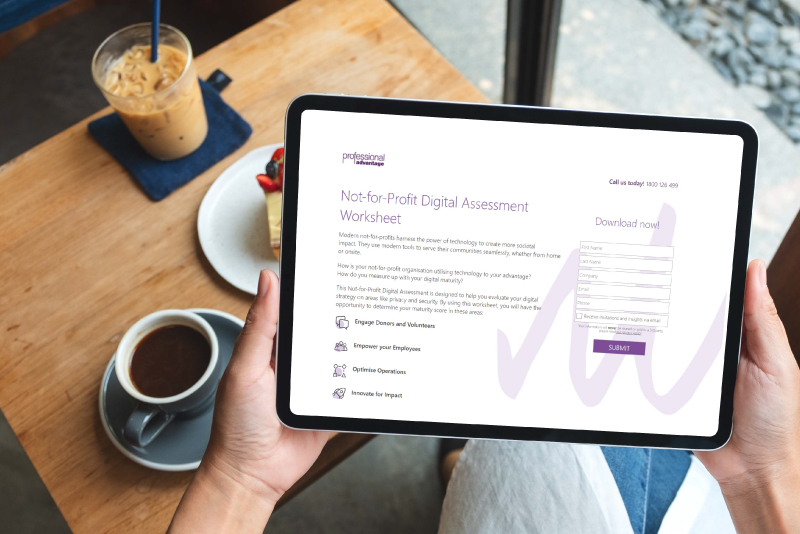 Take the first step in determining your areas for technological improvement and learn what to prioritise first.
Download our free Not-for-Profit Digital Assessment to help determine your digital maturity level and identify weaknesses and opportunities in your digital strategy.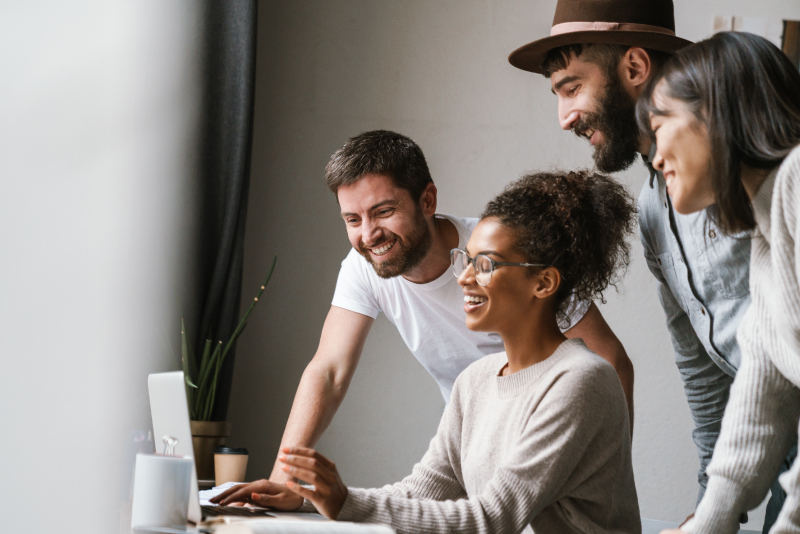 As part of our continued support to NFPs, Professional Advantage provides discounted consulting NFP rates.
Eligible NFPs can get access to discounted Microsoft 365 tools and services so you can deploy and use SharePoint Online. Get started below by registering your NFP with Microsoft.
Let us help you 'do more good' with SharePoint

Complete the form below, or contact us on 1800 126 499 to speak to one of our experts today.
We understand not-for-profits like no other
We are proud to have one of the broadest and most profound SharePoint implementation experiences for NFPs in Australia. Ask around the industry, and you will probably encounter some who have worked with us in the past.
With Professional Advantage as your partner, you don't have to look for separate providers to handle the license, implementation, customisation, and support of your SharePoint environment. As a Microsoft Gold Partner for Content & Collaboration, Cloud Productivity, and a Tier 1 CSP Partner, we are in a prime position to take care of all of them for you. As a multi-skilled Microsoft partner, we can also integrate various solutions available in Microsoft 365 so you can further maximise your investment and harness the power of SharePoint.
We are proud to work with some of the most recognisable not-for-profit organisations in Australia.
"It's been a long time coming and I am so grateful to all of you for making The Salvation Army's first national intranet a reality. This will have a significant impact upon the organisation's effectiveness and cohesiveness in mission delivery."
Neil Venables Secretary of Communication,
The Salvation Army 
Recommended resources for you
FAQs
Here are the top frequently asked questions about Microsoft SharePoint. View the full list here.