Need real-time collaboration while protecting your business against cyber threats?
Businesses large or small have similar challenges, albeit in varying degrees, regarding productivity, communication, security, and budget limitations. Utilising the business productivity solutions available in Microsoft 365 in your day-to-day operations can address these challenges and more. That is because Microsoft 365 provides businesses with powerful tools and cost-effective and innovative services.
Microsoft 365 is a bundle of services that combines the power of productivity tools from Office 365, the familiarity of using a Windows 10 operating system, and the security of Enterprise Mobility + Security, all in a cloud-based platform. It is the leading office productivity suite that empowers a productive and secure hybrid workplace.  
---
Microsoft 365 is the leader in office productivity
It is the top cloud-based business productivity platform worldwide, providing organisations access to these suites of tools and services at a cost-effective, per user per month fee:  
Microsoft SharePoint
Content Management and Collaboration
Microsoft Teams
Teamwork Hub
Microsoft Exchange
Mailbox and Calendar
Azure Active Directory
Identity and Access Management
Yammer
Enterprise Social Networking
Power Apps
Workflow and Process Automation
Power Automate
Workflow and Process Automation
Power BI
Self-Service Analytics and Dashboards
Microsoft 365's tools and services enable organisations with:
Enterprise-class email, calendar, document management, and file storage in a single platform.
Access files on the go, on any device. Chat, call, meet online, and collaborate from anywhere.

Secure your corporate data with built-in data loss prevention, multi-factor authentication, e-Discovery, and more.
Access value-added apps to automate business processes, enable self-service analytics, and more.
Which Microsoft 365 subscription is right for you?
With various Microsoft 365 subscriptions to choose from, it can be challenging to determine which is right for your business from a productivity, communication, and security perspective. To help you with your decision making, we have provided a quick feature and price comparison of the more popular Microsoft 365 SKUs purchased by clients of Professional Advantage. Download the relevant resource for you based on your number of users below.
Prices are subject to change without notice, so please contact us to confirm pricing or if you need further guidance.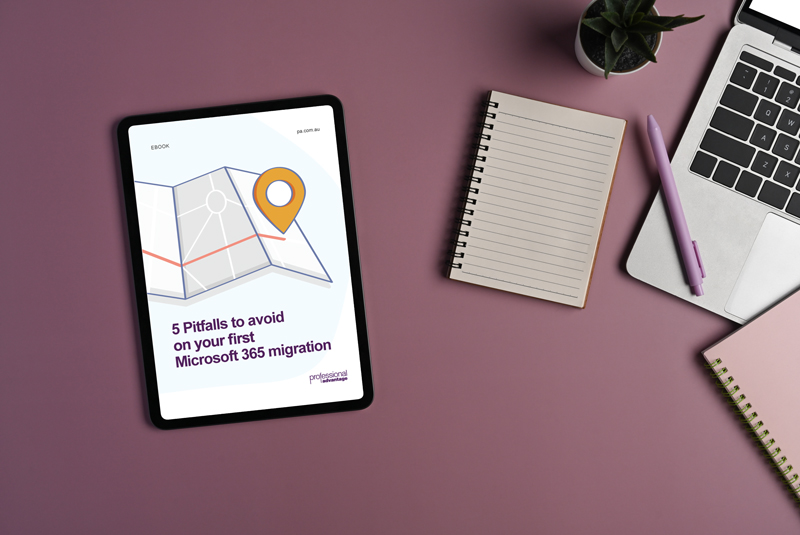 Migrating to Microsoft 365 for the first time?
We have collated our advice for seamless migration into a helpful eBook, within which you will learn:
Mistakes you need to avoid on your first Microsoft 365 migration.
Key things you need to prepare to avoid disruptions to your migration process.
Best practices for a successful migration.
Tips on how you can make your migration journey a seamless experience for your users.
---
Run your business in the cloud
Whether this is your first time migrating to Microsoft 365, or you want to mature your cloud adoption, we can help in these areas:
You can do so much more with Microsoft 365
Migrating to Microsoft 365 is just the beginning of your digital transformation journey. Did you know that you can do so much more with Microsoft 365? Further harness its power by integrating Viva or leveraging the existing services that will help you secure your remote workplace and modernise the way you manage your devices.
Transition to the Cloud with a trusted Microsoft Gold Partner
Professional Advantage is passionate about digital transformations; they help our clients save on costs, boost productivity, and secure their hybrid workplaces. Our passion for helping our clients transition to the Microsoft 365 cloud platform is evident in some of these achievements:
+82
Consistently high net promoter score.
9.7
Years average client retention.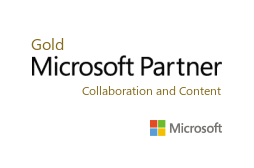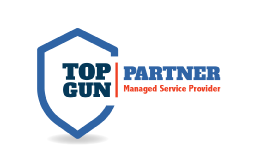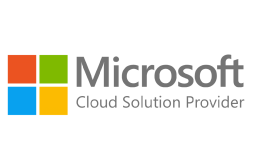 We are proud to work with several of the best Microsoft 365 consultants and experts in the industry who serve our clients in Sydney, Melbourne, Brisbane, and Perth. They are the reason that we consistently achieve a net promoter score of +82, have an average client retention of 9.7 years, and are trusted by some of the most recognisable Australian brands: 
Ready for Microsoft 365?
Complete the form below, or contact us on 1800 126 499 to speak to one of our experts today.
Microsoft 365 for
Not-for-Profit.
Microsoft and Professional Advantage are committed to helping not-for-profits accelerate their social impact by providing free access to tools and discounted services. Eligible not-for-profits can access up to 10 free seats of Microsoft 365 through Microsoft's NFP grant and can benefit from discounted consulting fees from Professional Advantage. Discover how you can take advantage of the cost savings and how your not-for-profit organisation can qualify for Microsoft's NFP grant by clicking below.
FAQ
Here are the top frequently asked questions about Microsoft 365. View the full list here.
What is the difference between Office 365 and Microsoft 365?
Office 365 is a suite of cloud-based productivity applications such as Microsoft Office, SharePoint, Teams, OneDrive, Yammer, OneNote, etc.
Microsoft 365, however, is a combination of services that blends together Office 365, Windows 10 OS, and Enterprise Mobility + Security.
Watch this short infocast from our Modern Workplace Specialist Andrew MacKenzie explaining the difference between the two Microsoft products.
What is the difference between Microsoft 365 Business Basic, Standard, and Premium?
The biggest difference lies in the availability of desktop applications and security features.
Microsoft 365 Business Basic offers Teams, Exchange, OneDrive, and SharePoint but it only offers web- and mobile-based versions of the most widely used productivity apps such as Word, Excel, and PowerPoint. This SKU is the cheapest but users will find it challenging to keep their productivity up without access to the full functionality of the desktop version of the Office productivity apps.  
Microsoft 365 Business Standard is a more robust plan for organisations looking to transform their office productivity, business processes, communications, collaboration, and more. It provides users access to everything that's included in Business Basic plus desktop Office apps, including Yammer, 1 TB OneDrive storage, and limited use rights to Power Apps and Power Automate. Its mid-level price make it ideal for most organisations to pick this option. 
Microsoft 365 Business Premium includes everything you can find in Business Standard plus the premium security features such as Azure AD Premium, Advanced Threat Protection, Azure Information Protection, and Intune. If your organisation has remote workers or BYOD workstyles, Business Premium is highly recommended for you. It might be the most expensive of the three SKUs but it certainly keeps your business well protected against unseen risks while keeping your people productive. 
Watch the video below for a quick snapshot of the inclusions in Business Premium. 
I have migrated to Microsoft 365. What other apps can I use in my subscription?
Available on your Microsoft 365 Business or Enterprise subscription are several useful productivity apps that can help make work a lot easier for you. Apart from the popular and often-used Microsoft Office apps like Word, Excel, or PowerPoint, there are a few more that you need to be aware of.


SharePoint for content management, company-wide collaboration and workflow automation.
Teams for chat, conference calls, online meetings, or real-time collaboration.
Power Apps and Power Automate

 

for business process automation.
Power BI

 

for data visualisation and analytics.
OneDrive for Business for secure file storage and sharing in the cloud.
Yammer for company-wide informal communications.
Planner for assigning and monitoring tasks. 
Stream

 

for storing and playing your corporate videos.
Forms for online surveys and polls.
If you're an existing PA client, we can help you discover these apps through our scheduled quarterly consulting visits or simply call us at 1800 126 499 to speak to a consultant.
Is there a not-for-profit pricing for Microsoft 365?
Yes, there is. Not-for-profit organisations can benefit from lower Microsoft 365 subscription fees. Eligible NFPs can also take advantage of Microsoft 365 Business Premium software grant for up to 10 licenses, and discounted additional per user license. 
If this is your first time to take advantage of Microsoft's not-for-profit offers, we recommend visiting these sites: 
Check your eligibility

 

here. 
Register

 

here to gain access to the benefits. 
Learn more about our Microsoft 365 not-for-profit consulting services and how we can help here. 
Contact us at 1800 126 499or email us at enquiries@pa.com.au for more information. 
Can I buy the Microsoft 365 components separately?
Yes, you can still purchase Windows OS, Office 365, and Enterprise Mobility + Security Suite a la carte. You can purchase them through a Microsoft Tier 1 CSP CSP such as Professional Advantage.
However, it is more cost-effective to purchase Microsoft 365 Business or Enterprise SKUs as it already bundles several apps and solutions that would otherwise be more expensive when bought separately.
To determine the more appropriate licensing structure for you, please call 1800 126 499or email us at enquiries@pa.com.au. We will be happy to help you make sense of your Microsoft 365 licensing needs.
Recommended Microsoft 365 resources for you.
You may also read our latest insights on our Blog page or watch our latest videos on our YouTube channel.

Can we help you with something else?