SharePoint Intranet that your users will love
We design and implement great looking, functional, and user responsive Intranets, be it using SharePoint out of the box or custom-built to your needs.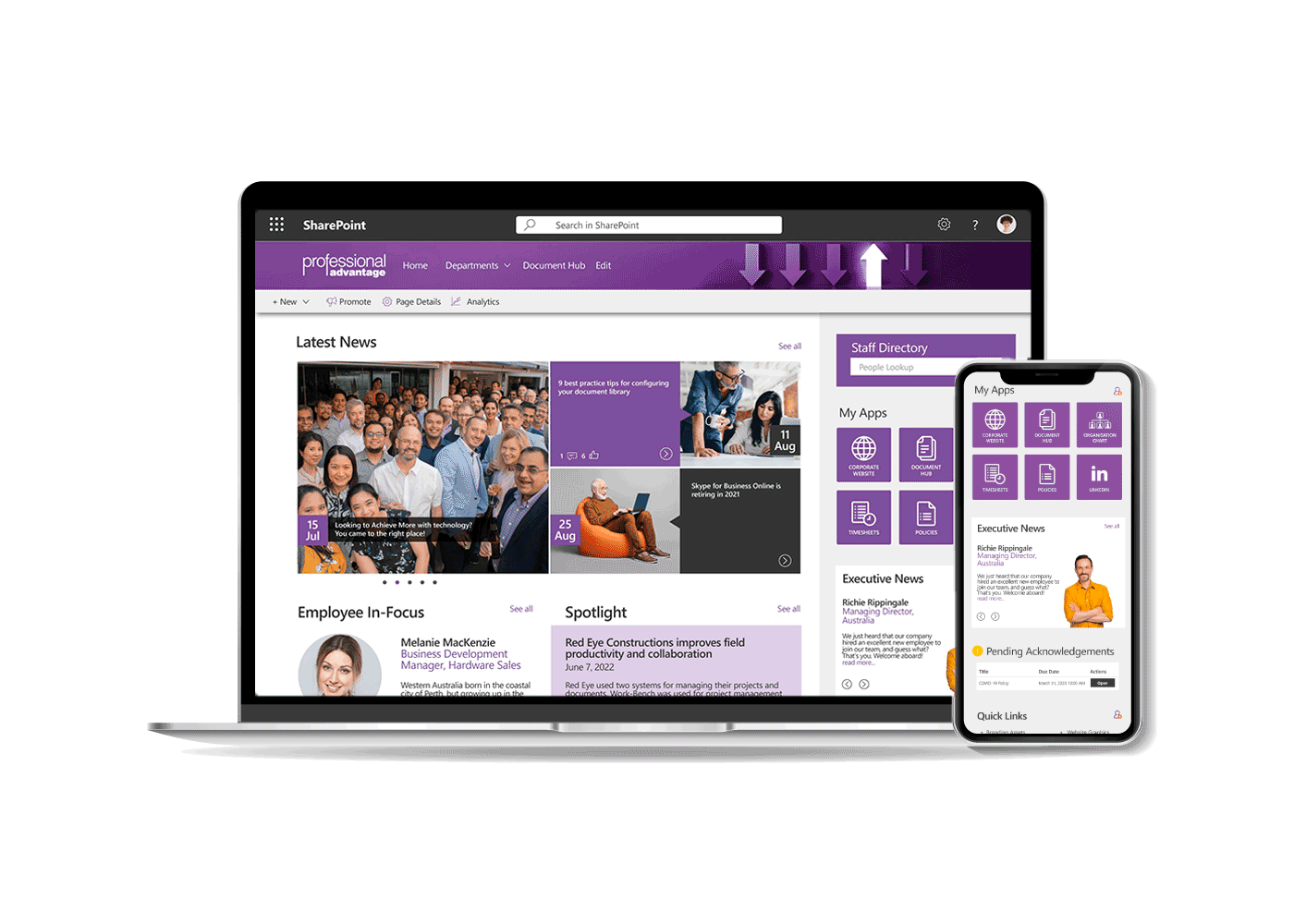 Centralise team communication and collaboration
Email is the most common communication channel that organisations use, but it is not always the most appropriate. From adding noise to your mailbox to difficulty finding previous communications to struggling to hold and maintain group conversations, email is a thing of the past if you want richer communication and improved team collaboration.
A Microsoft SharePoint powered Intranet enables you to:
Centralise organisation-wide communications such as company updates, announcements, and personnel news.

Build a collaborative and social organisation by integrating Yammer.

Drive employee engagement by enabling your team to share, comment, or react to a post.

Create dedicated team sites for department-level communication, collaboration, and content sharing.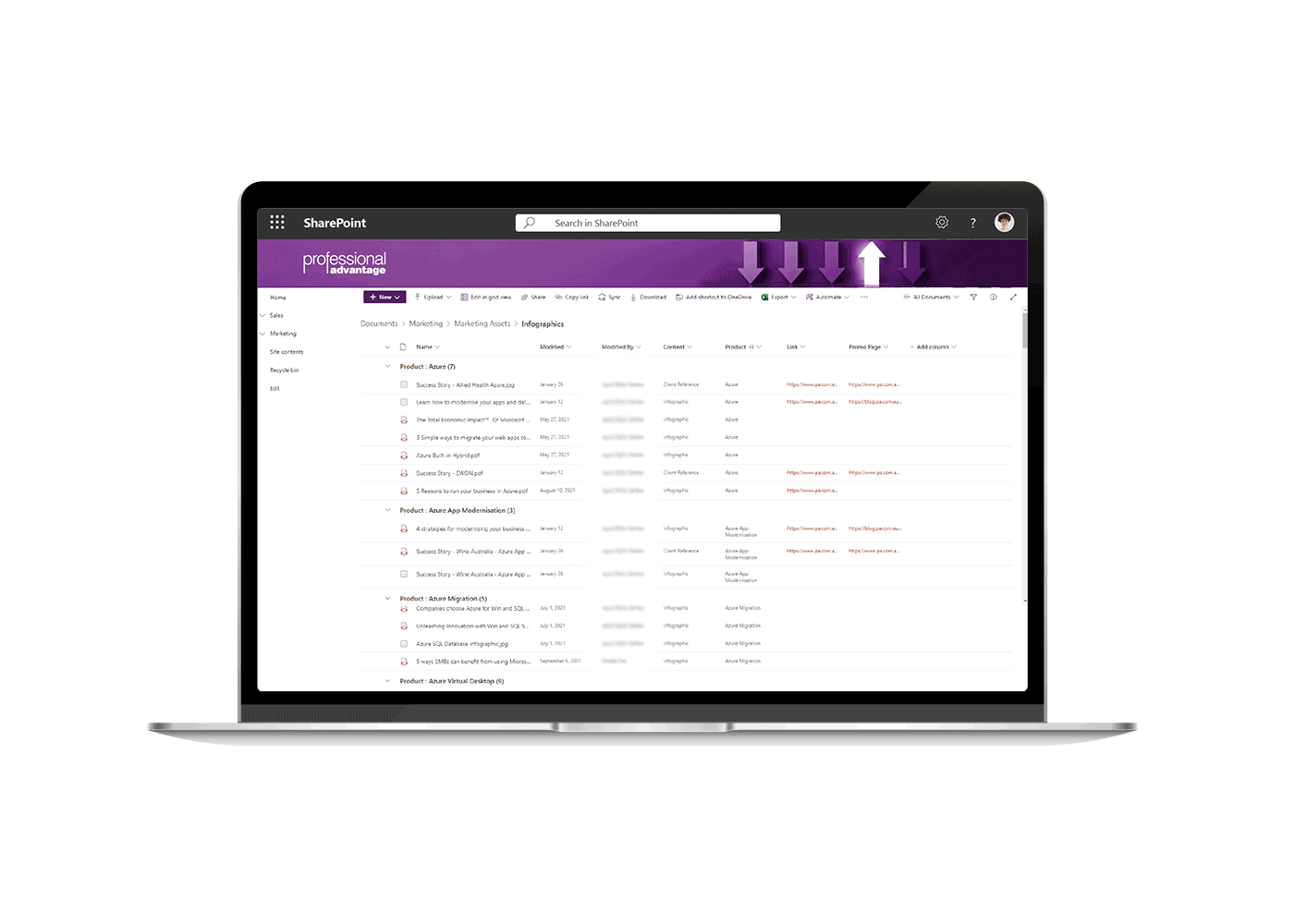 Manage business content more effectively
Today's hybrid workplaces demand the ability for your employees to get access to and collaborate on content that they need to do their jobs, anytime, anywhere, on any device. The good thing is that Microsoft SharePoint has a robust content management functionality that empowers you to:
Leverage its search engine across all sites, pages, wikis, lists, libraries, folders, files, and metadata to find the data you need in SharePoint.

Securely access and share your business data on the go.

Track updates made to documents with built-in versioning.

Work on a single document with colleagues simultaneously.
Save time with automated forms and workflows
Business process automation is one of the key aspects of making hybrid work, work. Eliminate the manual, time-consuming business processes that keep your team from doing their best work.
Whether using SharePoint's out-of-the-box forms and workflows or developing apps with Power Platform to complement your Intranet, SharePoint saves you time and money by enabling you to:
Streamline and automate your manual business processes.

Get visibility and track the progress of your projects and tasks.

Create user responsive digital forms accessible 24/7 on any device.

Drive results by speeding up feedback and approvals.
Enhanced SharePoint Web Parts for Better User Experience
A better user experience means better user adoption; that's why we developed these custom web parts – without the extra license or third-party tool investment.
Interactive News and Announcements
"SharePoint can interface with Teams, which helps to form more effective collaboration. I think it's far more powerful than a standalone content management system."
Ashleigh Crittle, Chief Operating Officer,
JANA Investment Advisers
332%
Increase in staff satisfaction who indicated they can now find corporate information easily with a centralised repository.
132%
Increase in staff satisfaction who indicated they can now find information quickly even outside of their client, asset class, or working group team.
82%
Increase in staff satisfaction indicating they can now conveniently collaborate on documents with multiple people.
Integrated SharePoint Experience
SharePoint's native integration with other Microsoft solutions creates a seamless experience for your users. Get more ROI on your existing Microsoft 365 software investments by integrating SharePoint with the solutions below or your non-Microsoft line of business apps. Simply get in touch with us, and we'll explore how we can help you.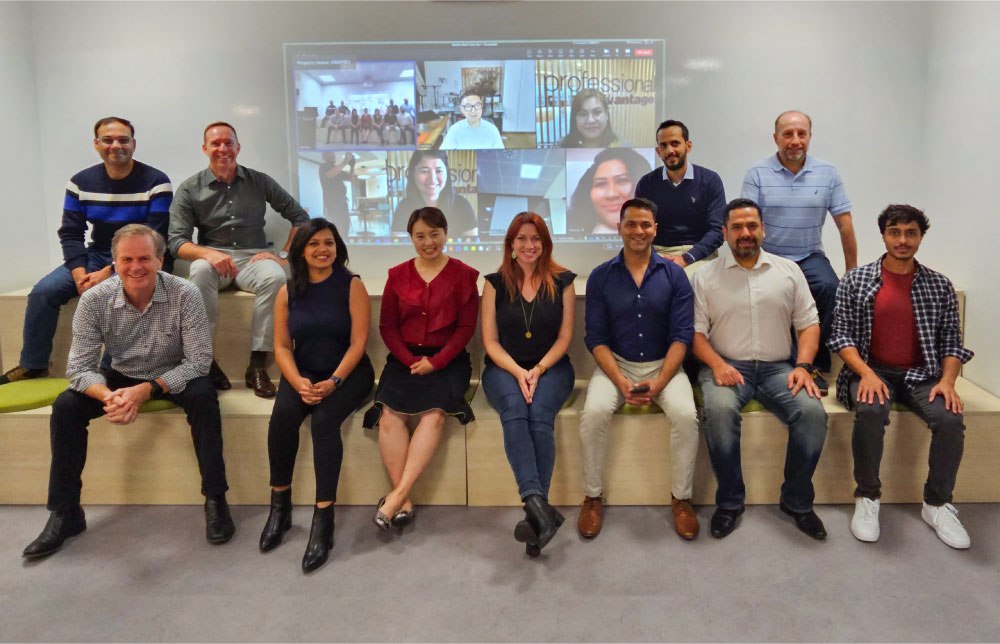 Australia's top SharePoint Consultants in Sydney and Melbourne
Professional Advantage has been delivering SharePoint projects since its first release in the market in 2001. A Microsoft Solutions Partner for Modern Work and Security, we have the experience, people, and the track record that back up our capability to deliver cost-effective and impactful SharePoint solutions. We are also a Tier 1 CSP Partner that, when combined with our Microsoft Cloud Solutions Partner designation, places us in a unique position for us to deliver your end-to-end software, services, and support needs.
We are proud to work with several of the best SharePoint consultants and experts in the industry who are based in Sydney and Melbourne. They are the reason that we consistently achieve a net promote score of 82, have an average client retention of 9.7 years, and are trusted by some of the most recognisable Australian brands:
Ready for your new SharePoint Intranet?

Complete the form below, or contact us on 1800 126 499 to speak to one of our experts today.
More Ways to Use SharePoint
Not-for-Profit Industry
Learn the solutions we built to digitally transform not-for-profit operations using SharePoint.
Learn more
Construction Industry
Discover how we're addressing the distinct needs of construction companies with SharePoint.
Learn more
Case Studies
Check out how other organisations are using SharePoint to modernise their business.
Visit Case Studies
Check the FAQs
Find the answers to the most frequently asked questions about SharePoint.
Check the FAQs
Discovery Call
Let's talk about your SharePoint needs. Book your 60-minute Discovery Call.
Contact us