Transform your employee's overall experience
Hybrid work is here to stay, providing your employees with the flexibility to work from anywhere, with anyone, on any device. But it also makes it challenging for them to stay connected, surface knowledge and content quickly, and embed growth, development, and wellbeing into the flow of work. To help keep engaged and thriving employees in a hybrid workplace, you need to personalise your employee's experiences with Microsoft Viva.
Microsoft Viva is the first of its kind employee experience platform (EXP) that leverages the familiar Teams environment in bringing together knowledge management, communications, learning, wellbeing, goals, and communities. Built within the Microsoft Teams platform, it is composed of 6 apps each designed to help your people to be their best anywhere. Click below to learn more about each module.
Why do you need Microsoft Viva?
Microsoft's next generation EXP is here to help you better manage the complexities of hybrid work.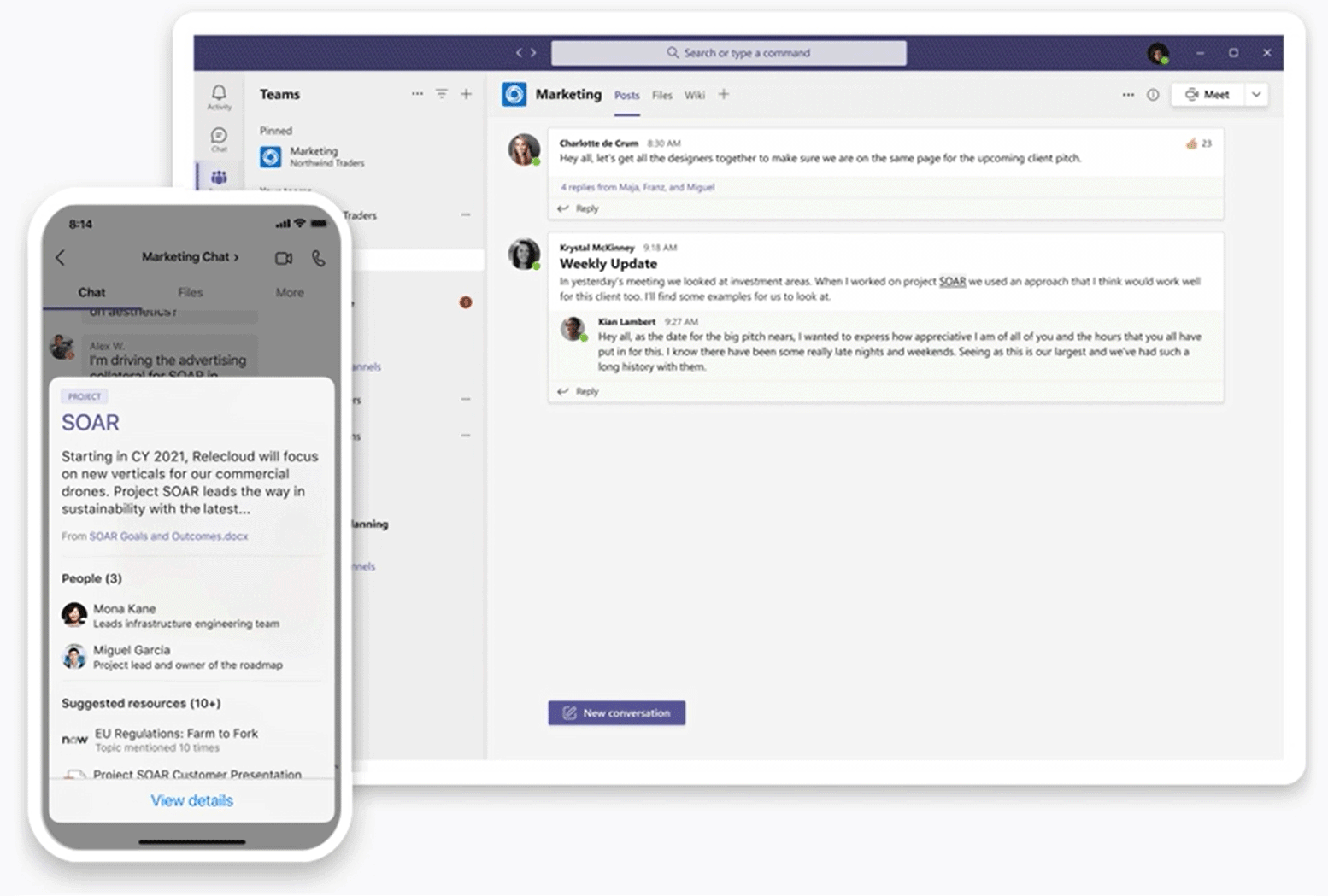 Viva Topics
Connect organisational knowledge and expertise.
Surface your organisation's wealth of knowledge and expertise in the most efficient way. Viva Topics leverages the power of artificial intelligence to connect your people with knowledge by automatically highlighting relevant keywords or phrases and bringing it to a central knowledge hub.
Viva Topics helps you to:
Spend less time searching or recreating information that already exists.

Get quick access to the right information when you need it.

Connect with your organisation's experts easily.
Get started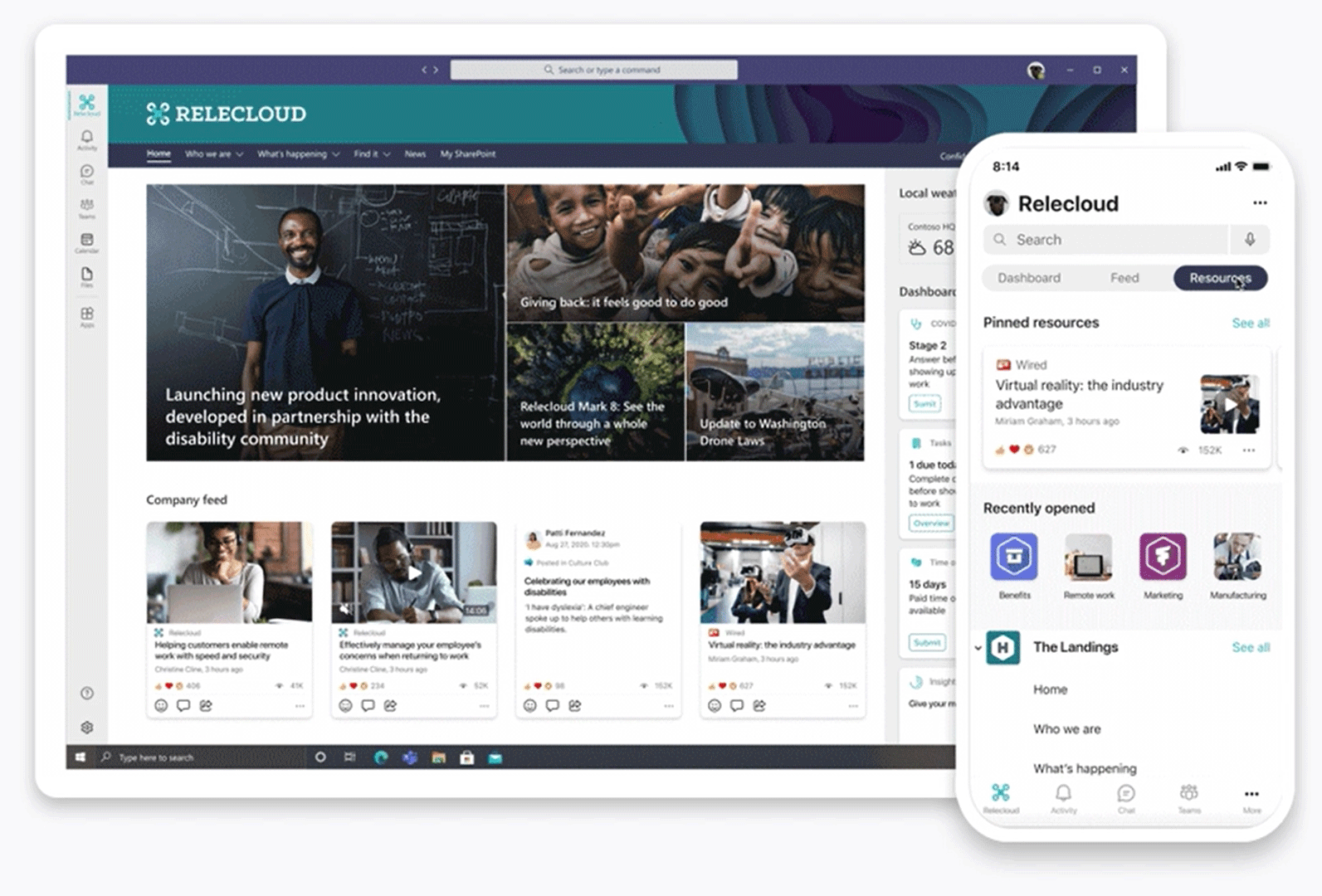 Viva Connections
Strengthen company culture and communications.
Viva connections is your employees' communication gateway that serves a personalised feed of the latest news, events, conversations, photos, and other resources in one place. Think of it as a modern-day SharePoint Intranet portal that feels like a social media app with simplified navigation, accessible on Microsoft Teams.
Viva Connections enables you to:
Personalise communications, announcements, and news received by your people to help them better focus on pieces of information that matter more based on their roles.

Provide users one place to go for news and conversations

—n

o need to jump from SharePoint to Yammer or Teams to catch up.

Take advantage of all the great features of a modern communication gateway without the extra costs or additional user training.
Get to know Viva Connections better in our blog below.
Learn more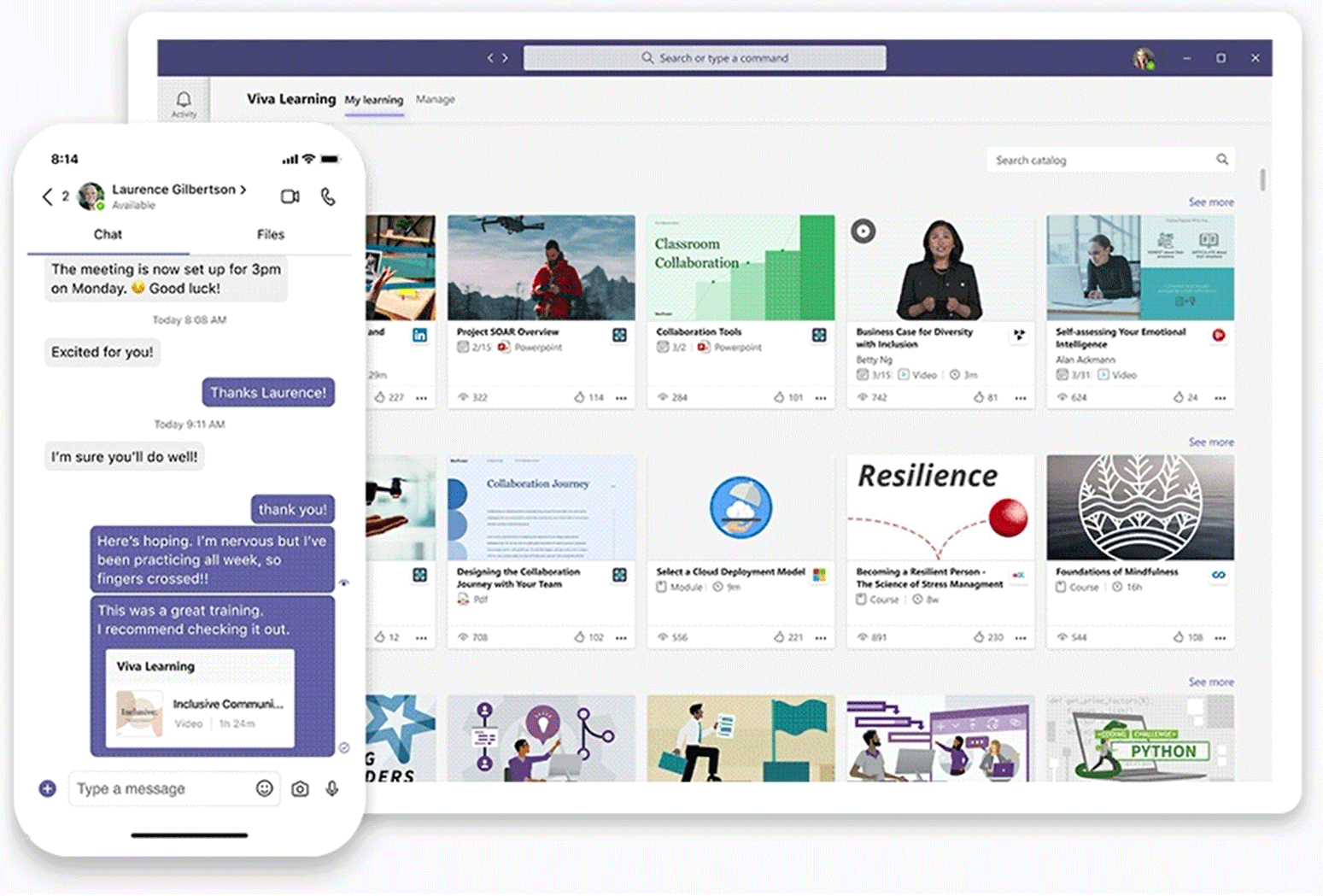 Viva Learning
Advocate learning and career growth.
Improve employee morale and have higher staff productivity and job satisfaction by bringing continued learning to your team's typical flow of work. Viva Learning is your employee's central learning hub that aggregates content from various sources accessible within Microsoft Teams.
Viva Learning allows you to:
Share, recommend, and learn from content libraries across your own sources, LinkedIn Learning, Microsoft Learn, and other third-party training services such as Pluralsight, Udemy, and more.

Empower your Team Leaders to assign and share applicable courses and track progress.

Bring the most relevant training to your staff in the place they spend most time.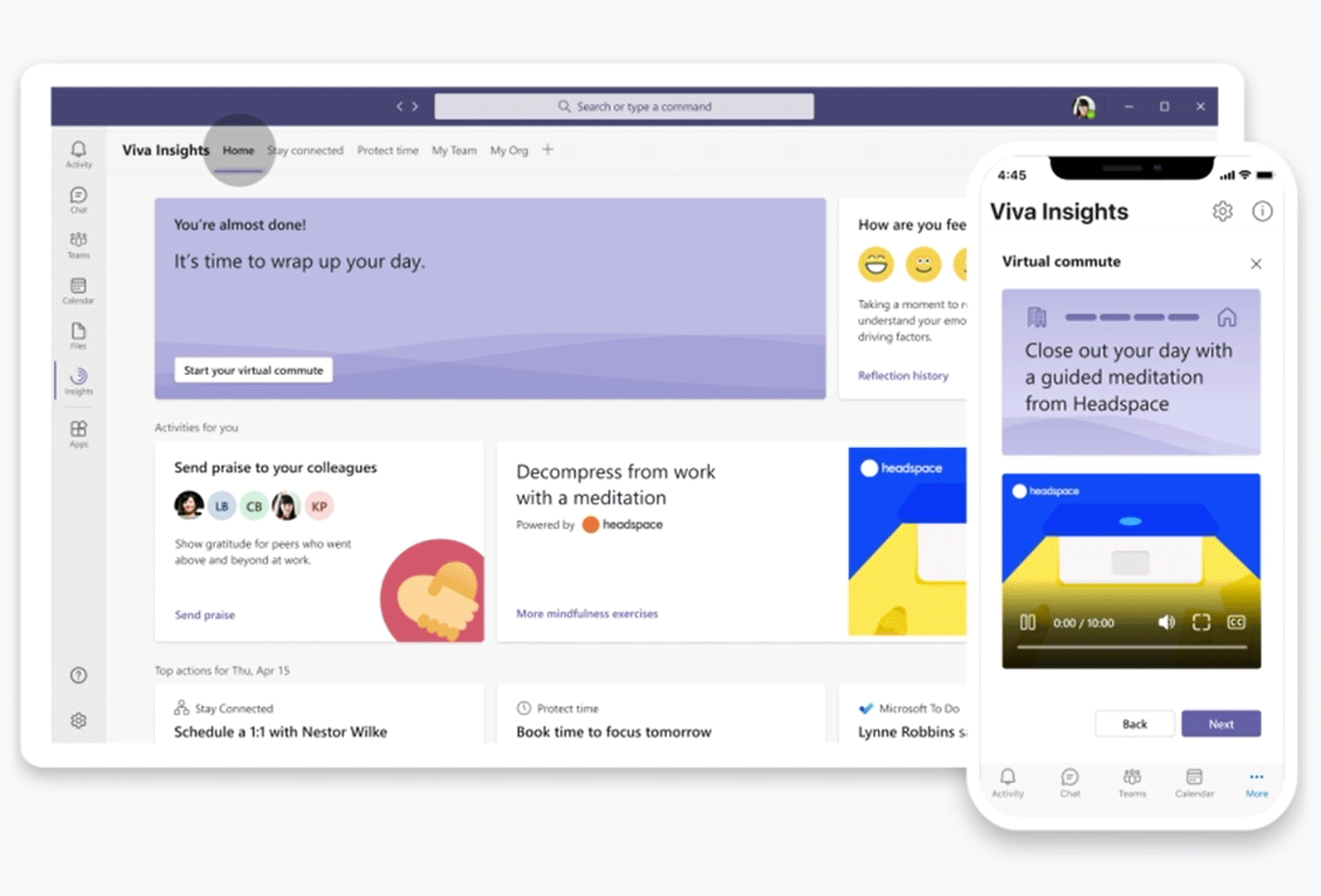 Viva Insights
Improve productivity and well-being.
Help your people maintain a healthy work-life balance. Viva Insights provides data-driven, privacy-protected insights and recommendations within Microsoft Teams designed to help employees increase wellbeing and productivity and achieve better work habits and balance.
Viva Insights empowers you to:
Provide personalised, actionable recommendations to help improve your employees' productivity and wellbeing.

Recommend regular breaks, focused work, and learning time.

Provide both managers and leaders with insights and better visibility on what can potentially lead to burnout, such as frequent meetings or after-hours work.
Viva Goals
Set and manage organisational goals.
Align your organisation's strategic priorities with individual teams. Viva Goals is a new addition to the Microsoft Viva modules that organisations can use for goal setting and management, using the OKR (Objectives and Key Results) framework.
Generally available in Q3 of calendar year 2022, Viva Goals enables you to:  
List your organisation's goals, vision, and objectives.

Visually monitor progress of each goal.

List individual tasks and owners that will help achieve these goals.

Celebrate team success.
Viva Engage
Encourage social networking at work.
Viva Engage is a social community app within Microsoft Viva designed to help employees connect and socialise. Built on the foundation of Yammer, it is accessible within Microsoft Teams, at no extra cost for existing Microsoft 365 commercial customers. It is the newest addition to Microsoft Viva's modules, generally available in August 2022.
Viva Engage will help your people to:
Have discussions with co-workers.

Build and join communities.

Get answers to questions.

Share unique stories and interests.

Find belongingness at work.
Meet Microsoft Viva
Get to know Microsoft Viva more in this 30-minute on-demand webinar. Learn:
How Microsoft Viva can help you prepare for a hybrid workplace by improving your employees' overall experience.

Viva Connections, what you can do with it, and how it can either replace or complement your existing SharePoint Intranet and consolidate your news feeds.

How Viva Topics can help you identify, curate, and discover important data so you can rapidly turn content into knowledge.

An overview of Viva Insights and Viva Learning.

How to get started with Microsoft Viva in our five quick and easy tips.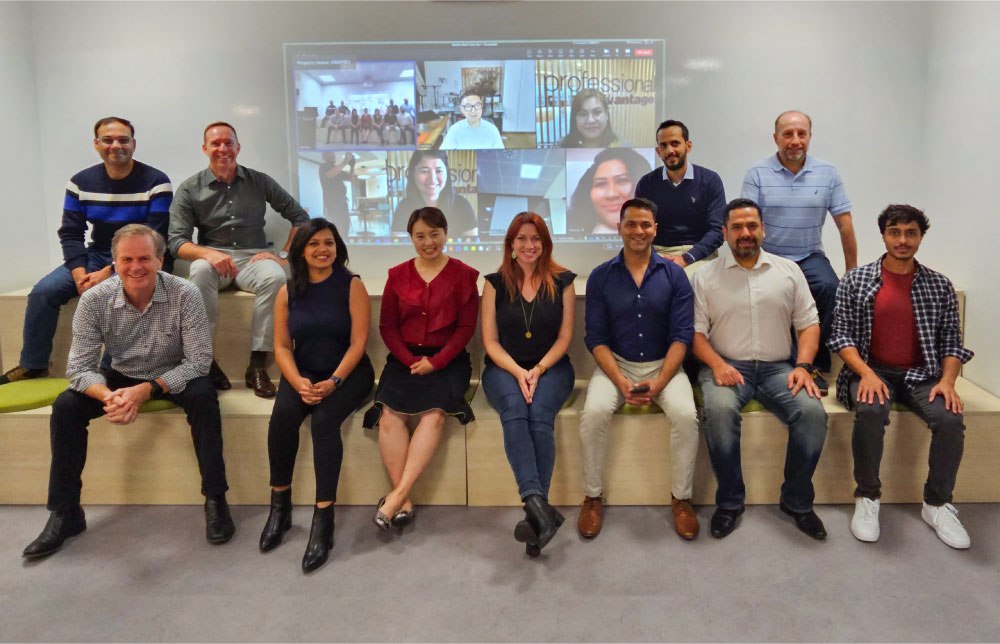 Top tier Microsoft Viva Partner in Australia
We have been the Modern Work partner of choice for hundreds of Australian businesses for more than 30 years and have been passionate about delivering digital solutions that transform and impact our client's businesses.
We pride ourselves on being one of the few multi-skilled Australian Microsoft Solution Partners for five designations that is also a Tier 1 CSP. That achievement puts us in a unique position to fulfill your software license needs and its implementation, support, security, and user adoption.
We are proud to work with several of the best Microsoft 365 and SharePoint consultants and industry experts based in Sydney, Melbourne, Brisbane, and Perth. They are the reason that we consistently achieve a net promoter score of 82, have average client retention of 9.7 years, and are trusted by some of the most recognisable Australian brands:
Microsoft Cloud Solutions Partner: Professional Advantage is a Microsoft Solutions Partner for six designations:
Infrastructure: Azure, Data and AI, Digital Innovation, Business Applications, Modern Work, and Security.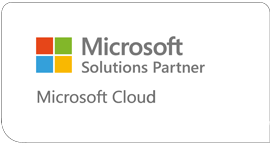 Are you ready to explore Microsoft Viva?
Complete the form below, or contact us on 1800 126 499 to speak to one of our experts today.
Can we help you with something else?