XMPro
Intelligent Business Operations Suite For The Digital Enterprise
XMPro's Intelligent Business Process Management Suite (iBPMS) is well suited to help organisations manage complex processes where the flow path is not always known in advance and where the failure of the process means compliance risk, monetary losses and/or reputational risk.
XMPro is a logical fit for processes that require high-priced employees and consultants and those involving:   
Regulatory compliance
Approval For expenditures
Insider trading
Customer On boarding
Credit approvals
Product launch
Sales opportunity pursuits
Deal & price optimisation
Professional Advantage with XMPro can help you manage your processes intelligently.
The solution for businesses with a clear vision
A super flexible BPM solution, XMPro lets you integrate predictive analytics plus social and mobile technologies into all your key processes along with the apps that enable them.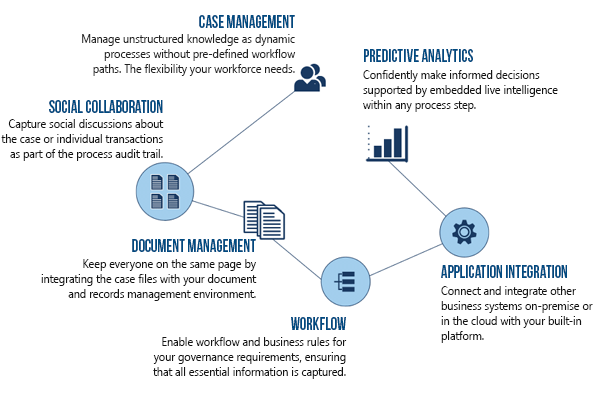 Example of Processes
XMPro can support almost every workflow and event management scenario. We have used XMPro to address a number of areas including:
Operations
Health and Safety Essential (HSE), Workplace Health & Safety (WH&E), Zero Harm
Job and time management
Asset utilisation management
Key Performance Indicator (KPI) capture and tracking
Financial services trading governance
Quality management
Security procedures 
Work requests
Human Resources (HR)
Onboarding to termination
Policies and procedures compliance
Training and certification management
Finance
Credit card and expenses management 
Oil and gas industry - Approval for Expenditure (AFE)
Joint venture process management
Shared services operations
Master data management
Customer onboarding to complex invoicing
"Don't make me go somewhere. Just let me do something."
XMPro supports 4 critical attributes to intelligent business operations:
Unstructured processes
Not based on predefined or structured workflow processes, but rather on "case-style" events where the flow path is not always known in advance and where the failure of the process means compliance risk, monetary loss and/or reputational risk.
Dynamic processes
Some tasks and steps need to be context aware and can adapt dynamically to offer a "next best action" to support the scenario at hand.
Mobile processes
"Build once, use anywhere" allows users to fully engage processes from their mobile devices.
It delivers to any web enabled mobile device such as an iPad, iPhone, BlackBerry, Android or Windows Mobile phone. E.g. a manager can start a new employee recruitment request, an executive can approve it on a BlackBerry and HR can process the request all through XMPro.
At Professional Advantage, we understand your success depends on how effectively you can put your solution to work, and we know the importance of being there when you need us. Our XMPro support team is the largest and most experienced in Australia.
We provide the following support options:
eService - Professional Advantage's Online Client Support Centre offers you internet access to log support calls, review the status and history of your calls and search our knowledge database. 
Click here to register for this eService.
Interactive Support Service - Our helpdesk now has the ability to directly view what you're seeing and/or doing by logging into your system using a standard internet browser. Citrix GoToMeeting works with existing firewall technology, password protection and encryption to protect sensitive data.
Service Postcards - every week, an email is automatically generated and sent to you detailing the status of current issues logged with the Helpdesk.