Keeping an engaged, connected, and secure team is perhaps one of the most prominent remote working challenges.

This used to be easy when everyone was in the same office interacting with colleagues, documents, or projects without many limitations. With Microsoft Teams, you can remove the communication and collaboration barriers that hinder your team from doing their best work, wherever they are.

Microsoft Teams is your hub for teamwork on Microsoft 365 that you can use to chat, call, meet online, share, and collaborate on documents. Transform the way you work with real-time collaboration and communication with Microsoft Teams. 
65 to 108 hours per year
Hours per year that employees earn back on average using Microsoft Teams.
Up to 15%
Reduction in the number of IT and HR support tickets with the use of bots in Teams.
Up to 5%
Reduction in the likelihood of a major data breach.
Increased employee engagement
Teams became the landing zone for many daily activities, enabling more productive work.
Optimise Teams with the right Information Architecture & Governance

Already using Microsoft Teams but have a sprawl of channels that make it hard to manage and navigate? Is finding the right content and information difficult with the way your Teams is currently set up? Maximise Microsoft Teams and use it more efficiently with the right information architecture and governance strategy.
Our Teams Information Architecture and Governance Plan (TIAG) already helped hundreds of organisations to:
Define an organised structure to enable quick information and content search.
Develop governance strategies to prevent the sprawl of channels or teams.
Integrate Teams with SharePoint and other Microsoft 365 apps for a holistic collaboration solution.
Deliver effective end-user training so your users can maximise Microsoft Teams.
Our Microsoft Teams Consulting Services

Whether this is your first time to roll out Microsoft Teams or you're looking to further adopt it, we can help:
Teams Envisioning and Planning
Deploying Teams for the first time? Get experts involved in your Teams rollout. We can help you plan the seamless deployment from scenario planning to use case ideation, to implementation and user education and support.
Learn more
Adoption and Change Management
Help your people adapt to change. We use a systematic and globally accepted approach to change management, providing communications, and guidance materials at every stage of your change management plan.
Learn more
Information Architecture
Already using Teams but have sprawling channels and folders that make it confusing to use? We can assist you with improving your Teams' information architecture for better navigation and overall user experience.
Governance and Security
Enforce internal business rules and corporate policies as your people work across multiple devices and locations. We can help you implement the governance and security protocols to protect your data in a remote work scenario.
Learn more
Knowledge Management
Easily surface your in-house organisational knowledge. Integrate Teams to a knowledge management solution that leverages the power of artificial intelligence to show relevant content and experts based on keywords.
Learn more
Application Integration Services
Bring the apps and services you love into Teams to create your organisation's teamwork hub. Teams can integrate to more than 500 apps, and we can assist you with connecting it to your business-critical apps
Learn more
"One of the best IT project rollouts I've been involved with."
John Boyd, CIO, TEEG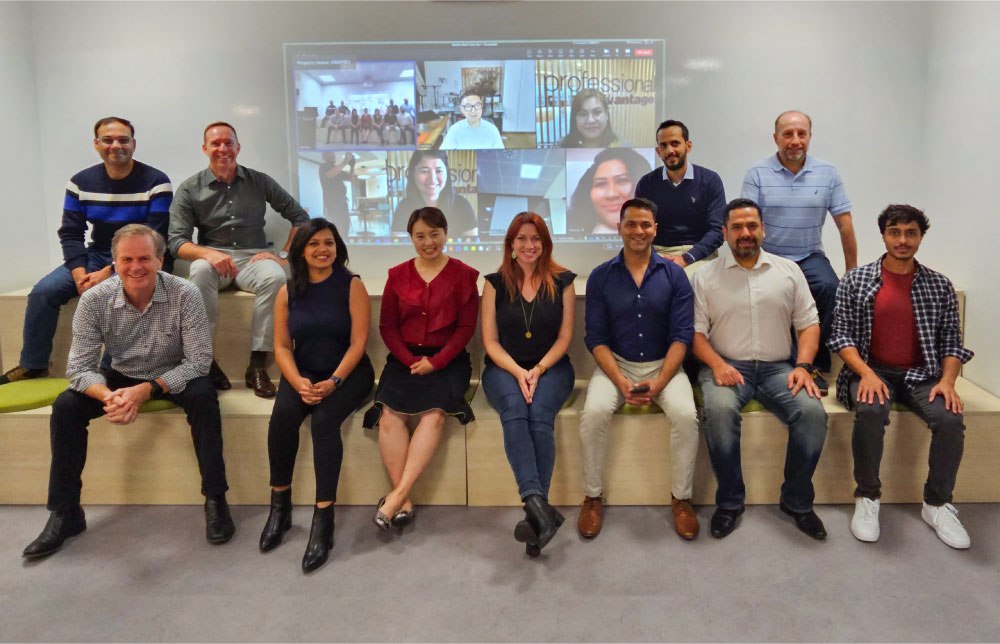 Work with one of the best Microsoft Modern Work Solution Partners in Australia
We have been helping organisations adopt Microsoft's cloud platform since Office 365's first release in 2011. For more than a decade, we have kept our competency as a Microsoft Solution Partner for Modern Work and have Tier 1 CSP partner status. We are one of the few multi-skilled Microsoft Cloud Partners (Azure, Microsoft 365, and Dynamics 365) that can help you integrate various solutions to your Teams platform so you can maximise your software investment.
We are proud to work with some of the best and most passionate Microsoft professionals in the industry who helped our clients based in Sydney, Melbourne, Queensland and Perth to modernise their workplace and achieve their desired business outcomes:
Ready for Microsoft Teams?
Complete the form below, or contact us on 1800 126 499 to speak to one of our experts today.
Microsoft Teams for Not-for-Profits
See how Microsoft Teams can work for your not-for-profit in these guided tours: 
FAQs
Here are the top frequently asked questions about Microsoft Teams. View the full list here.
What can Microsoft Teams do?
Microsoft Teams is a chat-based team collaboration and communication platform that lets you:
Chat or communicate in real-time.
Hold audio conferencing or full telephony.
Hold virtual group meetings, online live events or webinars.
Create and collaborate on teams and channels.
Create calendars and meetings.
Read our blog to learn in more detail what you'll love about Microsoft Teams. 
Visit this page to learn how we can help you migrate to Microsoft Teams or contact us at 1800 126 499 or enquiries@pa.com.au. 
How does Microsoft Teams work?
Are Microsoft Teams chats private?
Private chats are only visible to those people in the chat. However, because Teams is a company-managed communication tool and retains a log of your conversations, you should assume that your company is recording your conversations and can have access to them in the future.
Microsoft 365 also has eDiscovery where messages can be retained for several years or indefinitely, depending on your organisation's settings. IT admins can include Teams messages with specific keywords when searching for information.
How do we lock down conversations in Teams or lock down certain parts of a team?
You can now manage and customise your messaging policies in Teams by following these steps:
In the Microsoft Teams admin centre left navigation, go to

 

Messaging policies.
Select

 

Add.
Enter a name and description of the policy.
Choose the settings that you want.
Select

 

Save.
Further information about configuring messaging policy settings are available here.
Setting up a private channel in Teams is also available for those who want to facilitate communication and collaboration only to a select group of people. At time of writing, each team can have a maximum of 30 private channels and each private channel can only have a maximum of 250 members. You can set up a private channel by following the instructions here.
Contact us 1800 126 499 or enquiries@pa.com.au for more questions or clarifications regarding Teams privacy.
Where are Microsoft Teams recordings stored?
Your Teams meeting recordings were previously stored in the Microsoft Stream cloud storage.
However, as of Q1 of 2021, recordings are saved to your OneDrive or SharePoint. You can also access the recording by going to the meeting channel space.
Take remote working to the next level

Already using Teams for remote working? Great! You can take it to the next level with these solutions designed to empower a more secure and productive digital workplace.
Recommended resources for you
Can we help you with something else?