Perhaps the biggest IT challenge that Not-for-Profit organisations face is the limited funds to invest to upgrade its IT infrastructure or keep its data organised and safe. Moving your on-premises workloads to Microsoft Azure, however, will help you to address many of your challenges relating to:
Grants spent on ageing IT hardware and software maintenance costs that are better off used in delivering community programs.

Keeping sensitive and personal information secure against data breaches and cyber threats.

Scaling up or down on IT resources to support your community outreach or charitable events and activities.

Keeping up with mandatory industry and compliance standards.
Microsoft Azure can help your not-for-profit business to modernise its operations, secure its digital workplace, and save on costs so you can dedicate your attention towards accelerating and achieving your mission.


---


Need help in any of these scenarios?
Migrating your on-premises workloads to Azure helps your NFP business to save money, improve efficiency, and increase protection so you can do more good and drive deeper social impact.

Take my IT infrastructure to the cloud
Rising server maintenance costs? Unable to scale to your business' demands? Migrating your on-premises Windows Server and SQL Server workloads to Microsoft Azure will help solve these issues and more. Get started here.

Secure my remote working environment
Unable to identify, assess, and mitigate security risks effectively? Already paying for multiple 3rd party security solutions that deliver little ROI? Microsoft Azure has built-in security controls and intelligence that can protect your NFP business. 

Review my existing IT infrastructure
Want to modernise your IT infrastructure but not sure where or how to start? Our Technical Review can help you assess your current setup, existing licenses, identify the gaps, and create a prioritised roadmap to transform your IT environment.
Enable Backup and Disaster Recovery 
Don't let a natural disaster or a cybersecurity incident bring your not-for-profit to a halt. Keep your business running and restore your data and apps quickly with Azure's Backup and Disaster Recovery capability. 
Start planning your cloud migration and get $3,500 Azure Credits
Ready to take your IT infrastructure to the Azure cloud platform? Start planning your migration with our complimentary 1-day Readiness Workshop. This workshop will enable you to assess, design, and plan your seamless migration to Microsoft Azure with guidance from our team of experienced cloud and infrastructure consultants.
You can then get access to Azure's complete cloud solutions portfolio using Microsoft's $3,500 (USD) grant. Speak to us to learn about the eligibility requirements and registration process.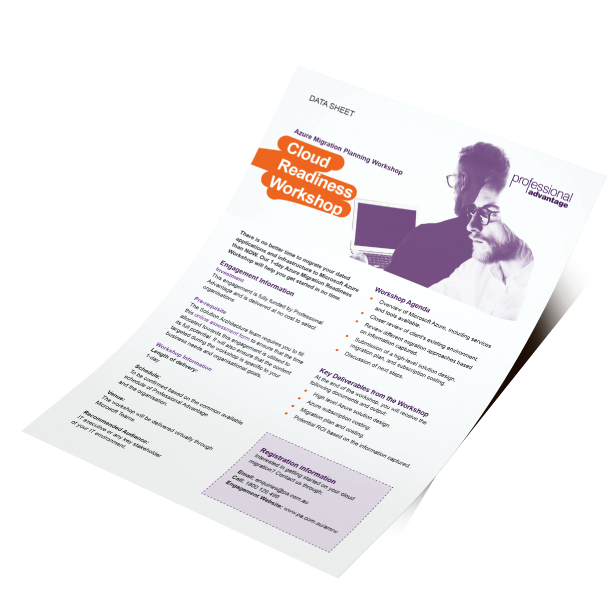 Get started here.
We're here for you. Get in touch with us by either filling out the form below or calling us at 1800 126 499.
Why NFPs choose Professional Advantage?
We are one of a handful of Microsoft Gold partner for Cloud Platform that has a wide Azure deployment and implementation footprint in the NFP sector.
We understand the intricacies and challenges of the NFP industry, having implemented IT solutions for its various operations.
We are one of the few Microsoft Gold partners in the unique position to provide both your software and services needs.
We use proven methodologies and framework for delivering our services.
We have a dedicated team of Azure experts to manage your requirements from implementation to support.


---