Planning to migrate your ageing and costly to maintain on-premises servers to Azure?

You are heading down the right path then! With your workloads in the Azure cloud platform, you will never have to buy another server again and your business will benefit from the long-term cost savings, simplified IT administration, robust functionality, and enterprise-grade security. If you are like some organisations who find it challenging to assess, plan, and design their migration to Azure, then you have come to the right place!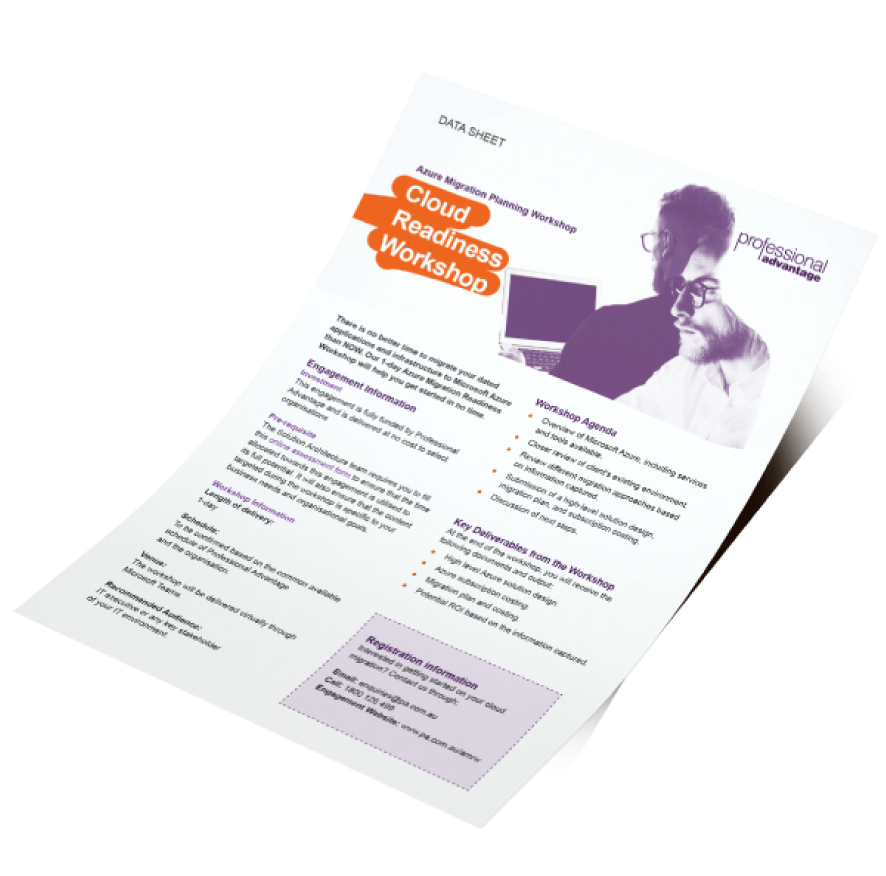 Migrate to Azure with confidence.
Here is your chance to get expert assistance with planning your migration. Get the confidence that you need to migrate to Azure with our 1-day Azure Migration Cloud Readiness Workshop. It is designed to arm you with the information that you need to know to assess your readiness and plan your migration to ensure a successful transition. It is 100% sponsored by Professional Advantage, delivered by our team of experienced and certified Microsoft Azure consultants.
Download Datasheet

Workshop Agenda:


Azure Overview, including services and tools specific to your needs.

Closer technical review of your current IT environment.

Discussion of suitable workloads and various migration options.

Preparation of a high-level solution design, migration plan, and costings.

Who should join?


This workshop is highly recommended for anyone involved in the decision-making process of their IT/ Technical Innovation related initiatives in the business. Organisations that fit the description below will also find this workshop useful:
Organisations that have a considerable on-premises footprint looking for ways to cut down on IT costs.

Organisations looking to modernise their legacy business-critical applications.

Organisations looking for ways to secure their IT environment—whether cloud or on-premises—beyond using traditional security tools.

Organisations wanting to further mature their Azure cloud adoption.

Key Benefits of the Workshop:


Learn how you can plan and accelerate your cloud migration journey in the most efficient, cost-effective way.

Get guidance from experienced Solution Architects on how you can plan and accelerate your cloud migration journey.

Get professional assistance to prepare a strong business, reduce operational cost, and increase business profitability.



At the end of the workshop, you will receive the following:


Roadmap for migrating to Azure with recommended next steps.

Cost of migrating your IT infrastructure to Azure.

Potential ROI based on the information captured.

Book your complimentary workshop today!
Help us better understand your current IT environment by completing this initial online assessment.
Alternatively, contact us on 1800 126 499 to speak to one of our experts today.
Recommended Resources for you