For any member-based organisation, it can be an ongoing challenge to keep current members engaged whilst growing the membership base. Maintaining multiple disparate systems for membership management, case management, events management, email marketing, finance, etc. is costly. Multiple systems each require their own licensing, training, implementation, and ongoing maintenance costs, whilst data maintenance, analysis, and reporting become more time consuming due to data consolidation necessities from all of the different systems.
A tailored membership and events management solution is key to the success of member-based organisations, enabling you to engage with your members and build longer-lasting relationships. With the right membership application tools at your disposal, you will gain a 360 degree view of your members, their activities, and preferences, and be able to deliver more targeted campaigns, events, and promotions, getting to know your membership base better with each activity.
---
How our Membership and Events solutions will help you
Manage your membership finances, including creating invoices and taking payments.
Provide a customisable portal to members for registrations, purchases, accessing, and updating their information.
Track and manage interactions and campaigns with donors and supporters, and with fundraising efforts.
Streamline planning for events by utilising templates, assigning tasks, coordinating with sponsors, and managing pricing.
Manage the entire member life-cycle, including renewals, payments, and de-registration.
Gain insights in to member interaction and engagement, and measure the effectiveness of events and campaigns.
Considering a Membership and Events solution?
Complete the form below, or contact us on 1800 126 499 to speak to one of our experts today.
Why choose Professional Advantage?
One of our key specialities is the delivery of membership and event management software that caters to the needs of associations, clubs, institutes, not-for-profits, trade unions, government bodies, and other organisations that depend upon members for their livelihood. The event management capabilities within our solutions will ensure that your events are planned and staged in the most efficient way possible.
We bring more than 30 years of industry and technical expertise to our IT projects backed by our growing team of certified and experienced developers, architects, project managers, and change managers. Our growing list of verifiable projects and client references speak of our track record and the quality of our engagement and project delivery.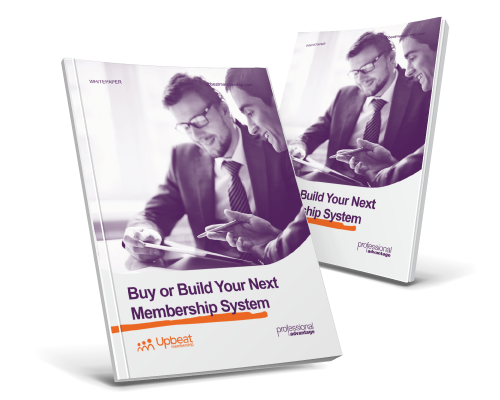 Buy or Build Your Next Membership System
This whitepaper outlines what our experience has demonstrated to be the most important considerations for professional associations, membership, not-for-profits, and other event-centric organisations, when deciding on whether to 'buy' or 'build' their business system(s).
Download whitepaper now