A few weeks ago analyst firm Gartner positioned Microsoft as a Business Intelligence and Analytics Platforms Magic Quadrant leader for the ninth year in a row.
This is the first time Microsoft has placed furthest in vision in the Leaders quadrant. Gartner analysts say this is the result of improvements to Microsoft's flagship business intelligence product, Power BI.
"Microsoft is positioned in the Leaders quadrant, with strong uptake of the latest [Power BI] release, major product improvements, an increase in sales and marketing awareness efforts, new leadership and a clearer, more visionary product roadmap," Gartner analysts reported.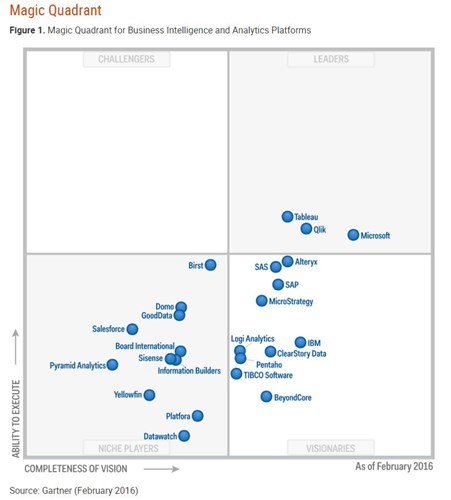 "Microsoft's vision to provide natural-language query and generation via its Cortana personal digital assistant, together with its strong partner network and its strategy to provide pre-built solutions, positions it furthest to the right on the Completeness of Vision axis."
Gartner also ranked Power BI for its user enablement. The platform scored highly for online tutorials, community support, online references and documentation.
Now on its second major release, Power BI is more accessible and user-friendly than ever. In addition to dropping the price and introducing a new desktop interface, Power BI Desktop, Microsoft has introduced enhancements to:
self-service data preparation
data discovery
user-oriented dashboards.
Cloud-based Power BI deployments no longer rely on Excel and SharePoint for authoring or content distribution. This means organisations can use Power BI as a stand alone product without separate Office, Office 365 or SharePoint licences.
To join the 90,000 organisations using Power BI in 185 countries, contact Professional Advantage today on 1800 126 499.