Compassion Australia and Professional Advantage (PA) have now been working together for almost 10 years. Over those years, the two organisations have built a strong and trusting working relationship, leading to the implementation of their latest budgeting and forecasting solution in partnership with Professional Advantage.

Compassion Australia is part of Compassion International, a global network of more than 12 funding and 25 developing countries. Together, they are a Christian child development ministry that partners with local churches to release children from poverty in Jesus' name.
2018 was a record-breaking year for the organisation which saw more than $85 million in revenue raised for the first time, with 117,107 children now registered with the Child Sponsorship program, supported by more than 84,000 Australian sponsors.

The 80/20 financial split has been Compassion Australia's benchmark since they were established in 1977. Approximately 80% of all donations to Compassion Australia is used:
For the development, delivery, and supervision of programs.
For the purchase of goods and services for the direct benefit of the children in their programs.
To facilitate sponsors' personal relationships with their sponsored children.
For community education in Australia.
Approximately 20% is allocated to cover all administration and fundraising costs in Australia.

With this structure in mind, the decisions made around where administrative expenses occur are important ones. When discussing the process behind these decisions, Matthew Fletcher, Financial Controller at Compassion Australia, highlighted the internal thought process.
"We need to make sure that when we make an investment, it will give us the biggest return, and truly be value for money."
Compassion Australia refer to themselves as 'stewards' of the donations they receive, ensuring they are careful and respectful with how those funds are used. As such, if the need is there for them to spend a potentially considerable sum of money on something administrative, it needs to be justified as something that can increase efficiencies and effectiveness, so that they can improve what they do and ultimately send more funds to support the children they work with.

This is where the strength of the relationship between Compassion Australia and PA has proved a real benefit, as the two organisations can work together to ensure that the best decisions are being made for the good of those being supported, and to get the most out of limited resources.
"Our Account Management Team with PA is great. Our primary contact has key technical knowledge, so we know if we ask them a question, we get a knowledgeable and informative answer. Not only do they understand what we ask, but they understand what we need, and give us a truly honest answer. We have a great deal of trust and respect for them and their opinions."
With a broad spectrum of GP experts and decades of knowledge, PA have been able to support Compassion Australia and offer advice on how to make processes better and more efficient within their accounting system, and now with their budgeting as well. The benefits of this honest relationship has meant that Compassion Australia have been able to ask for advice from PA, but it also means PA have been able to work with Compassion Australia on developing skills surrounding their newest budgeting solution.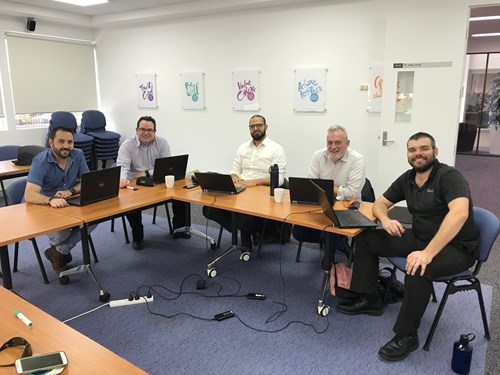 Joel Eggins, Matthew Fletcher, Abdallah Saleh and Graham Smith from PA, and Matthew Wade as they are initially introduced to Kepion. 

This newest budgeting tool is Kepion, an integrated solution that simplifies the planning process, allowing business users to enter their plan information and view their reports. Compassion Australia and PA have worked together to workshop their existing solution, identifying the key aspects, formatting, and design that they want incorporated and designed in to their Kepion solution.
We look forward to focussing on this solution and what it has done for Compassion Australia in a future Client Story.