Professional Advantage is now a registered supplier on a panel announced by the NSW government. The NSW Government ICT Services Scheme began on 1 March 2013 and offers a panel of prequalified service providers to assist NSW government agencies in engaging expertise across a wide range of ICT service categories.
Professional Advantage is approved to provide services in the following categories: ERP Services including electronic document & records management and customer relationship management (CRM) & case management services; information management services, custom application development and other software services.
Our goal at Professional Advantage is to provide all our clients with the best possible solution to enable them to achieve high performance workplaces. We are looking forward to working with the NSW government and its agencies to achieve their goals.
Upcoming Events
Microsoft Dynamics 365 for Sales
Tuesday, 4 April 2017
Attend this webinar and discover how Dynamics 365 for Sales works seamlessly with other Microsoft solutions to help increase your sales team's productivity and results . Register now!
Click here to register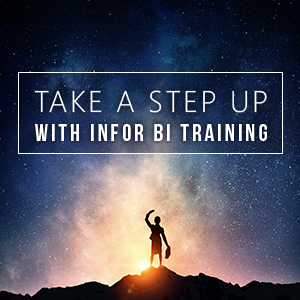 Take a step up with Infor BI training
Wednesday, 5 April 2017
Attend our 2-day training course to be competent with Infor BI Reporting. Register now!
Click here to register