Microsoft Dynamics AX 2012 R2 offers powerful industry solutions, rapid deployment and adoption, flexibility to adapt to the way your business and people work around the world. Some of the enhancements in Microsoft Dynamics AX 2012 R2 include:
General feature enhancements:
Support for SQL 2012 including new out of the box BI capabilities within role centres using PowerView
Support for SharePoint 2013 and enhanced role centre KPIs and dashboards
Merging of global feature set and extended country support from a single instance ERP (now supports China, India, Russia, Brazil)
Continued enhancements to industry focus areas of manufacturing, distribution, retail, public sector and professional services
Improvements based on feedback and suggestions from customers and partners
Enhancements and extensions to Office add-ins.
Some of the specific feature enhancements:
New budget planning and modelling capabilities within Dynamics AX and using Excel integration framework plus full workflow approval support
Financial enhancements for more flexible multi-company configurations
Bank reconciliation enhancements for statement import and auto reconciliation
New inventory costing method 'moving average,' also known as perpetual costing, to better support retail and other industries who prefer this method
Indirect cost framework extended to purchased items not just production items
Project resource management improvements
Cross company project capabilities
Human resource enhancements
Extension of sub-ledger accounting framework first introduced in Microsoft Dynamics AX2012.
Check it out!
Talk to us to find out how the enhancements in Microsoft Dynamics AX 2012 R2 can help you move your business forward.
Videos and demos of the new features coming soon.
Upcoming Events
Microsoft Dynamics 365 for Sales
Tuesday, 4 April 2017
Attend this webinar and discover how Dynamics 365 for Sales works seamlessly with other Microsoft solutions to help increase your sales team's productivity and results . Register now!
Click here to register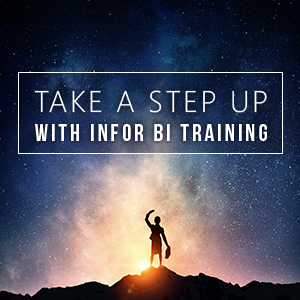 Take a step up with Infor BI training
Wednesday, 5 April 2017
Attend our 2-day training course to be competent with Infor BI Reporting. Register now!
Click here to register